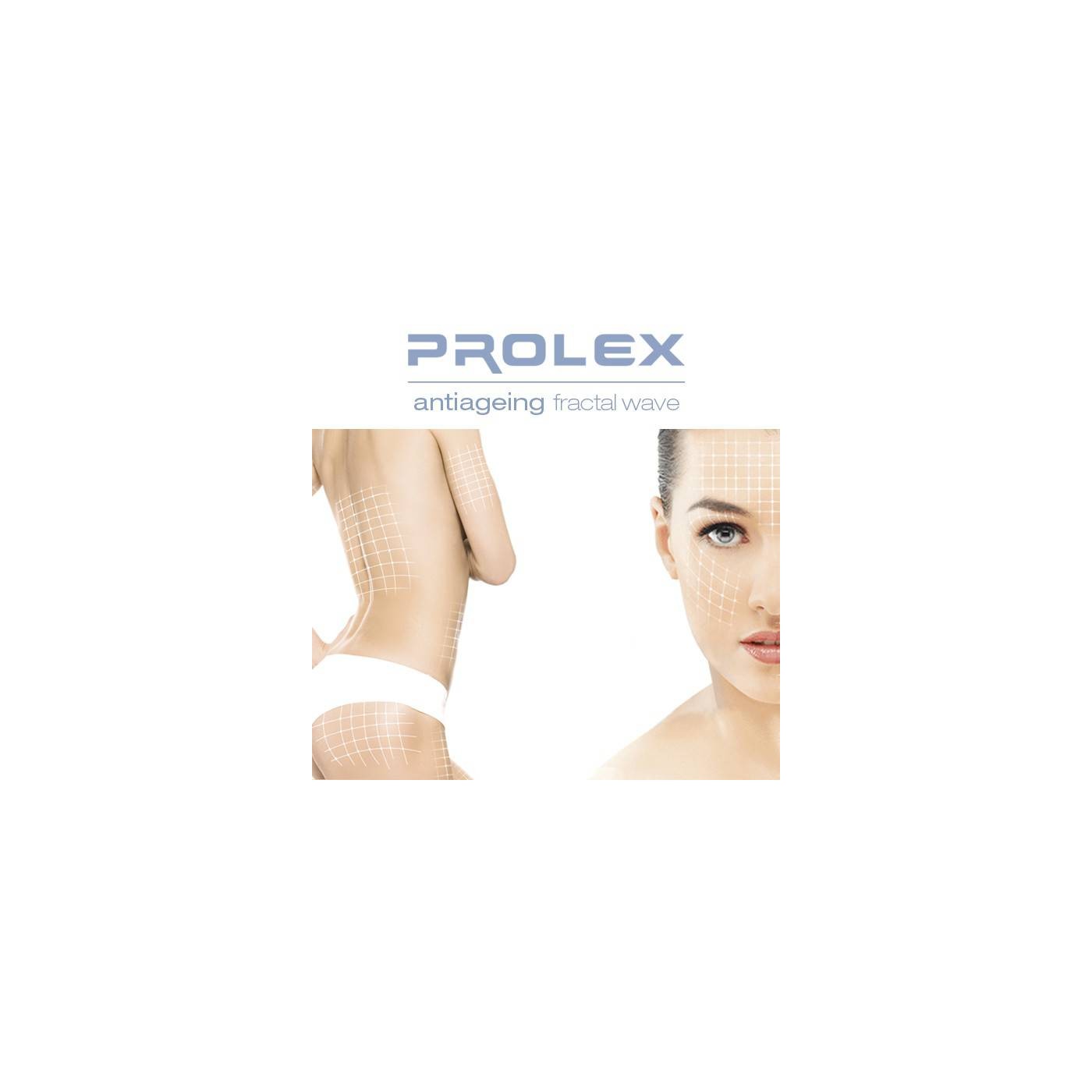 Maximize

Display all pictures
PROLEX ANTIAGEING FIRMING TREATMENT
Made with the exclusive PROLEX ANTIAGEING FRACTAL WAVE equipment.

Antiageing, Firming, Moisturizing and Protective Treatment.
Indicated in treatments of tissue lifting, fine lines, post acne marks, stretch marks and melanic dysfunctions by photoageing.
Facial, neck and / or neckline.
This professional treatment includes: Specific cleaning, reformulation of assets for its application from 5 to 8 areas, application of Prolex Antiageing Fractal Wave, application of assets post Prolex, application of hydration cream and sun protection.
Functions:
1. It acts on the dermis, stimulating the production of fibroblasts in the long term, resulting in the manufacture of new collagen, elastin, reticulin and mucopolysaccharides.
2. Stimulates the epidermis by accelerating cellular exchanges.
3. It produces an immediate contraction of collagen.
4. Increase the local temperature deep and subtly the surface where the device is applied, which will achieve greater circulation and therefore, greater oxygenation, tissue nutrition, faster elimination of waste and increased cellular metabolism.
5. Improvement of the texture, porosity and softness of the skin.
6. We activate skin regeneration.
7. Activate the dermal microcirculation.
8. It allows an active toning that facilitates the remodeling of the tissue contour.
9. Reduces cutaneous sagging (skin flaccidity).
10. Improves stretch marks, fine wrinkles, post acne marks and superficial spots by photo-attenuating them.
11. It allows to work all kinds of cutaneous phototype.
12. It allows to work throughout the year without station restrictions.
13. It is ideal for sensitive skin.
14. The results will be optimized to the extent that the skin is free of impurities, well polished, hydrated and nourished prior to treatment with PROLEX ANTIAGEING FRACTAL WAVE®.
15. Thanks to the active ingredients and their cosmeceutical concentrations, they provide hydrating and firming elements to the fabric.
16. We recommend that you always personalize the treatments based on your skin biotype, need and condition of the skin.
Want to Get More Information About PROLEX ANTIAGEING FIRMING TREATMENT?
Ask for it in the form below